Experience Boston's best French brasserie and savor French cuisine and fine wines including our signature steak frites, coq au vin, bouillabaisse, cassoulet and our famous on-ice raw bar as well as our spectacular outdoor patio overlooking Newbury Street.
Located in the heart of Boston's Back Bay, Bouchee serves authentic french brasserie cuisine in a lively, bistro-style atmosphere featuring Parisian lamps and a classic French zinc top bar. Bouchee also features a spectacular outdoor patio for great "people-watching". Our cuisine is savory, approachable and made with only the finest and freshest ingredients including high-quality meats, seafood and vegetables.
Our classic brasserie favorites include steak frites, coq au vin, steak au poivre, duck confit and cassoulet as well as an irresistible on ice raw bar and an outstanding wine list with ever-changing world-class international selections. Bouchee offers a taste of Paris right here in Boston!
Taste of the Back Bay
NABB puts this fundraiser on every year and every year it keeps getting better! Bouchee is is just one of many incredible restaurants participating in this boutique tasting event!
BNN editors are partial to the desserts! We hear word that a NEW bartender will be starting there soon....wouldn't you like to know...
Improper Bostonian Magazine, August 2007
"Bouchee has a certain fizz, apparent as soon as you step in"
Alison Arnett, Boston Globe
"Boston's newest hot spot"
"The coq au vin is the best chicken on Newbury Street"
"The season's must-visit new restaurant"
"It's the perfect reincarnation of Parisian dining at its most seductive"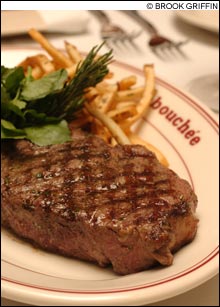 "On the steak frites, Bouchee is flawless"
With brasserie fare in mind our extensive wine list is carefully thought out to compliment and enhance the guest experience. The philosophy of the wine program is to offer variety, value, and passion and to be consumer- friendly. Bouchee features a wide range of by the glass and half bottles so that the guest
(novice or connoisseur) can experiment or have multiple varietals with their meal.
The wine selections are predominantly French and include all of the main regions with varietals along with selection of some California and Washington State varietals. The list is categorized by the French region and then broken out by varietal. Each section has a brief description of the history of the region and what varietals are produced.
This list is designed to be approachable and to take away any intimidation to the guest that may not be familiar with certain French wines.
With this format they are able to make a choice of a wine by either the grape, region or producer that they are comfortable with.
Our menu features the best in French cuisine including the highest quality meats, seafood and vegetables. Our signature menu offerings include steak frites, steak au poivre, coq au vin, moules a la Provencal, duck confit, cassoulet, just to name a few.
We also feature an extensive seafood selection including chilled lobster, iced littlenecks, iced oysters and shrimp cocktail. And for the dessert lover, we feature an irresistible selection including our signature creme brulee, profiteroles and crepes mascarpone.
Bouchee Boston writes...
Located in the heart of Boston's Back Bay at 159 Newbury Street, Bouchee serves authentic French brasserie cuisine in a lovely, upbeat and beautifully redesigned setting, featuring a spectacular patio for that authentic café experience. Tim Partridge, former chef/owner of Perdix, serves as executive chef, with an expert team of experienced restaurant professionals.

Dining Style: Fine Dining

Cuisine: French, American

Neighborhood: Back Bay

Cross Street: Dartmouth and Exeter

Price: $30 and under

Website: http://www.boucheebrasserie.com

Email: bouchee-newbury@bbrginc.com

Phone: (617) 450-4343

Hours of Operation:
Brunch: 11:30am - 3:00pm
Lunch: Monday - Saturday: 11:30am - 4:00pm
Dinner: Monday - Thursday: 4:00pm - 11:00pm, Friday & Saturday: 4:00pm - 12:00am, Sunday: 3:00pm - 11:00pm

Payment Options:
AMEX, Diners Club, Discover, MasterCard, Visa

Executive Chef: Michael Rice

Dress Code: Casual Dress

Accepts Walk-Ins: Yes

Offers: Bar Dining, Bar/Lounge, Full Bar, Non-Smoking Restaurant, Patio/Outdoor Dining, Takeout, View, Weekend Brunch, Wheelchair Access, Wine

Parking: Valet
Chose from a Variety of Newsletters Including Free VIP Passes, 18 Plus Clubs, Latin Nightclubs,
International Clubs, Under 21, Caribbean Clubs, Brazilian Clubs & After Hours Nightclub Updates